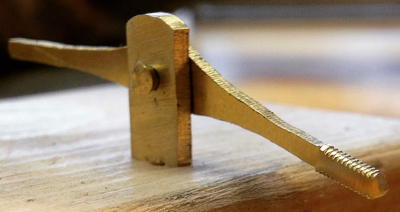 I made a prototype action lever. It's a Wheatstone-style riveted lever hand-cut from 1mm thick brass sheet (the post is 1.5mm; possibly a bit thicker than necessary, but I didn't want it to distort when I hammered it in).
The hardest part was making a die tool to thread the pad end so that I could screw the leather grommet onto it. Because the lever is cut from thin flat sheet rather than round bar, an ordinary thread cutting die wouldn't have worked, so I instead made a sprung die set to form the thread.
I started with a 15mm x 25mm x 100mm bar of O1 tool steel, drilled and filed a spring shape on one end, then slit it in half: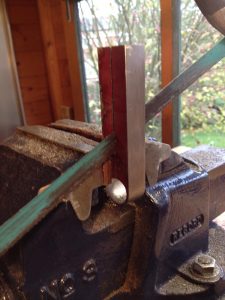 Next I clamped it tightly together in a vice, and drilled and tapped an M2 hole in the middle of the slit, near the opposite end to the spring: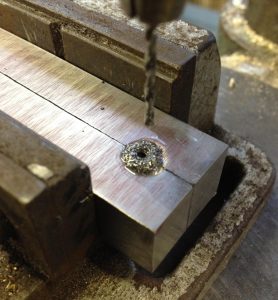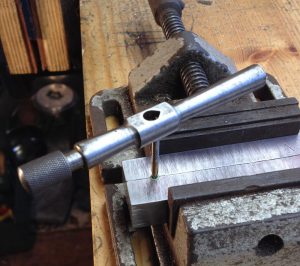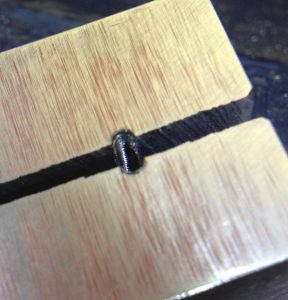 I put a couple of M5 threaded holes in the bottom so I could bolt it to a chunk of angle iron, then hardened and tempered it to 200C, differentially tempering the spring end to a higher temperature with a blowtorch so it won't break in use: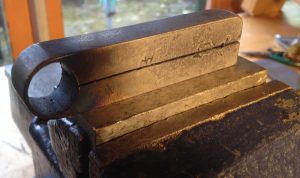 After a bit of experimentation, I found that I could get it to form an acceptable thread if I cut a section of the 1mm sheet to 2.5mm wide (this dimension is fairly critical: 2mm forms almost no threads, and 3mm distorts and creases badly). It works best to hammer the tool fairly hard four times: once with the lever vertical, once each at 30 degrees from vertical in both directions, then a final time with the lever vertical again.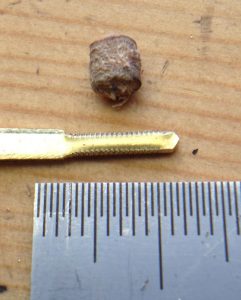 The lever after sawing it out with a jeweller's saw, forming the thread, and riveting it to the post: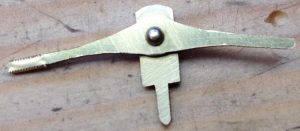 The proportions were based on one of the shortest levers in a treble English; most of the levers will have longer straight sections. The straight section is 2mm wide; I had to make the threaded part a bit wider (the tool squishes it narrower and thicker):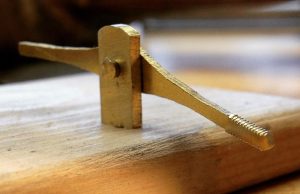 After screwing the grommet on. It is necessary to enlarge the hole in the leather grommet to 1.65mm before it will screw on without using excessive force and damaging the grommet: