I made a new design of silver concertina earrings; an octagonal 12-button English layout, slightly larger than the previous two at 25mm across flats. The reason I reduced the number of buttons and also increased the overall size a little was so that I could fit in a more complex fretwork design than on my earlier hexagonal English design: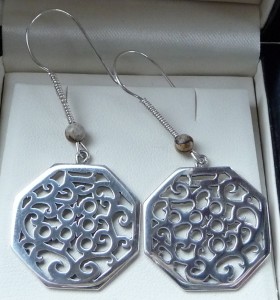 (Don't try to make sense of the layout from the picture; I accidentally posed them the wrong way round.)
The pair in the picture was a birthday present for my mother. If anyone wants to commission a pair, I'll do them for £75 + postage. Drop me an email via the contact address to reserve some time in my schedule, the sooner the better because I'm very busy with other projects.
As you might have spotted from the video in my previous post, this is the first design where I drilled the pilot and button holes using CNC. I still cut all the piercings by hand with a very fine jeweller's saw because the details are extremely small with lots of sharp corners. Obviously all the soldering, polishing, and making the ear-wires are done by hand too.