Here are a couple of Christmas presents I made for my nieces: hand cut concertina-shaped silver earrings.
The first pair is a hexagonal 18 button English, 19mm across flats. The layout goes from G up to C and includes two sharps and three flats (copied from the layout of a real 18 button semi-miniature).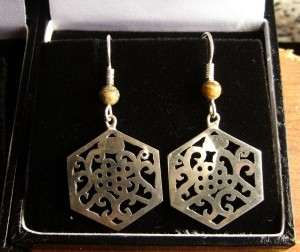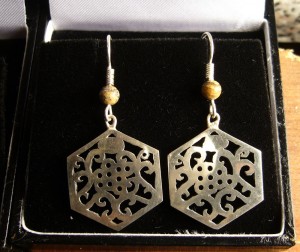 The second pair is an octagonal 20+1 button Anglo, 20mm across flats.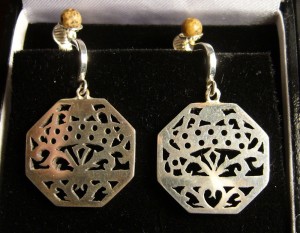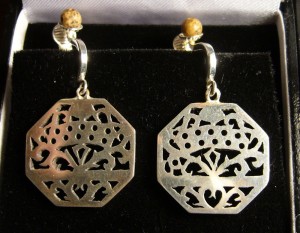 My original plans included soldering on buttons and handrests, and engraving my maker's mark onto the ovals, but the fretwork took far longer than expected and I ran out of time (I finished polishing them at 8PM on Christmas eve!). I didn't realise until it was time to drill the piercing holes that the design I came up with for the anglo is much fiddlier than the English – lots of very small piercings.
What's that you ask? Why yes, I do take commissions. There's still plenty of time before Valentine's day. 😉
Update: I have got a bit better at making these with practice. See the photos on this entry.