My latest instrument is another Crane duet, this time a traditional-looking 44 button (+ air) with 6 1/4″ hexagonal ends.
Here is its full specification:
44+1 button Crane layout with Butterworth curve and slightly narrowed column spacing.
Six sides.
Weight: 1170g.
Seven fold plain black goatskin bellows.
Black walnut burr veneer with black Rocklite Ebano border inlay.
Ebonized beech handrails with integral strap fixings.
French polished finish.
6082-T6 aluminium reed frames with steel reed tongues.
Standard scale reeds on the left hand, long scale on the right hand.
Sycamore radial tapered reed pans.
Sycamore action boards.
Brass sheet riveted action levers.
3/16″ nickel silver capped buttons with acetal cores.
2mm button travel (giving 4mm pad lift at 2:1 action lever ratio).
Black wool bushings.
Tuning: 1/5 comma meantone with root note A=440Hz.
Includes some modifications to standard Crane layout, such as the addition of left hand A2, Bb2, and B2 notes, and right hand B3.
The following button chart shows the modifications from a standard Crane (click to enlarge). Note that the D#/Eb button is not a mistake: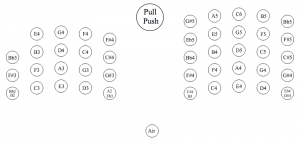 Update: In November 2021, I replaced the left hand Eb3 (which the client almost never used) with an F2. Because the reed pan wasn't originally designed for such a low note in that position I had to use an undersized reed and heavily weight the tip, but it actually performs fairly well and sounds really nice in an F major chord.
I was lucky to have the pleasure of recording a set of tunes played by the instrument's new owner, John Thornton from Hampshire. I am really happy with how rich and well balanced it sounds (even more so in person than recorded on a built in phone mic).
I put a lovely black walnut burr veneer on both the end plates and action box sides: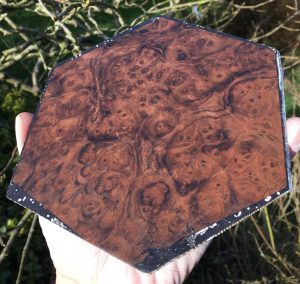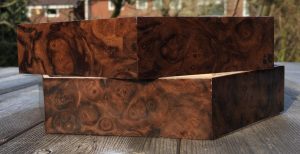 I designed a new vintage-inspired fretwork pattern for the instrument (hand-pierced, naturally):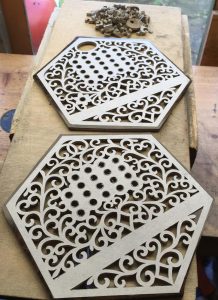 I came up with another variation on the strap clamping method. It's similar to what I did on No. 1, but with a leather pad on top rather than a brass plate.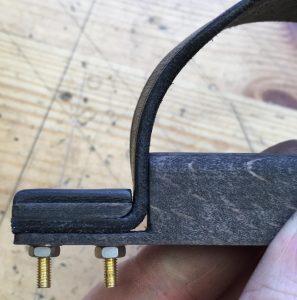 I hand turn the knurled thumb screws, so each set has a unique shape: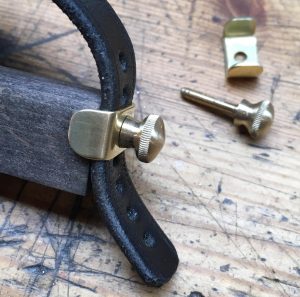 The moulded border inlay is made from Rocklite Ebano.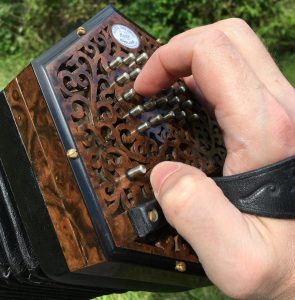 As on the previous instrument, the left hand (with 19 buttons) has a fairly simple action, but the right hand (26 buttons) was a lot trickier to build, with some rather awkward spring placement. It works nicely though, and the short button travel and light action makes it feels very responsive. I'm now using four different sizes of pad: 13, 14, 15 and 16mm diameter, and this instrument uses all four for different pitches. The air button has a 16mm pad, which isn't huge but it's adequate for a duet with a few anglo-style bisonoric buttons.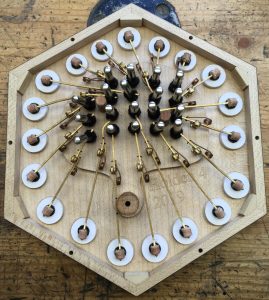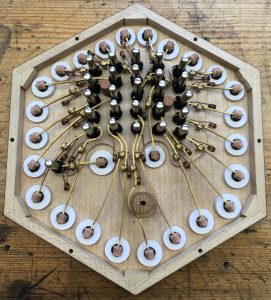 This is the first time I resorted to crossing two levers, and it worked fine, though the perpendicular spring on the air button was a bit awkward to get working reliably (I added the extra staple to stop it twisting and hitting the lever next to it).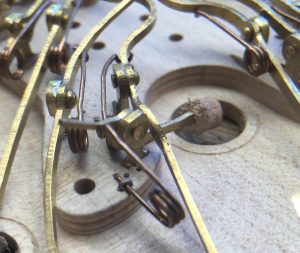 The reed pans are both quite densely packed, with one inner chamber on the right hand. I again used aluminium reed frames to keep the weight of the instrument down, though I redesigned them to make them a little stiffer than the last set.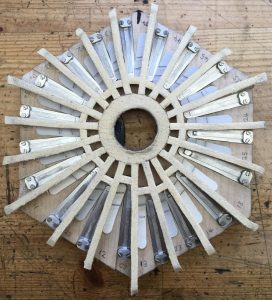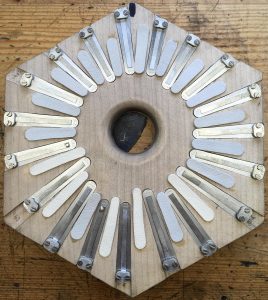 Incidentally any difference in sound quality or response from the reeds in the inner chamber is barely detectable. I think it's important to keep the chamber as small as possible, put the pad hole over the clamp end of the reeds, and mount the reeds securely. On this one I realised I could just tap holes in the inner chamber reed frames and put bolts through from the other side of the pan, which eliminates any fiddling around with tiny nuts.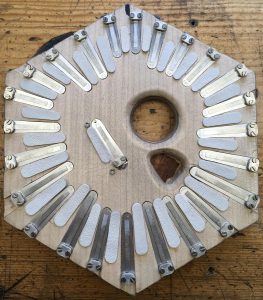 I made a new reed slot dovetail cutter, inspired by the reed pans in a very densely packed 56 button Wheatstone English. The step in the profile allows it to cut a significant distance under the side wall next to the tip of the reed without removing enough of the wall to weaken it.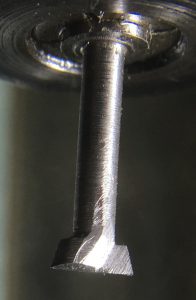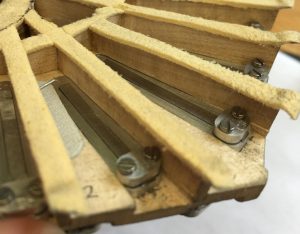 The seven fold bellows hold plenty of air even for heavy chordal style playing.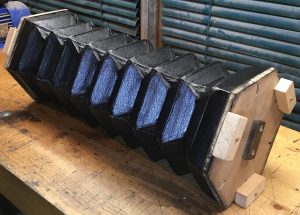 The finishing touch is a sturdy Italian hard case with custom fitted corner blocks covered with padded velvet, so the instrument is held securely with the bellows evenly compressed.