Quite a while ago I wrote a post about making nut plates for the doorbell project. Since I need twelve of them for a real instrument, and they will need to be accurately inset into the bellows frames, it made sense to program my CNC mill to produce them.
They are made from 2.5mm thick brass sheet. They have an M3 tapped hole in the centre, and two countersunk holes for fixing them to the frames using No 4 x 3/4″ brass screws. This batch of twelve took about 45 minutes to machine: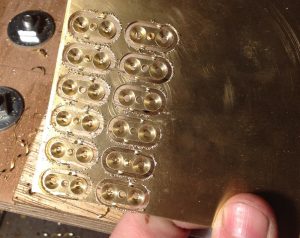 Of course, after breaking them out of the plate, they still required a bit of manual cleanup and deburring: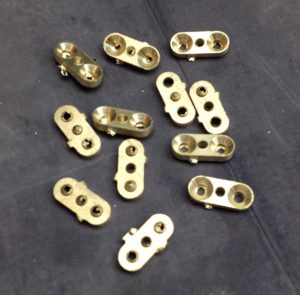 I tapped them all by hand using my ultra-high-tech tapping jig.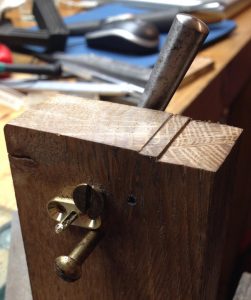 Here is the finished batch of nut plates, plus one of them set into a piece of scrap plywood the same thickness as the wood I'm going to use for the bellows frames. They have rounded ends so that I can cut the inset using a router bit in the CNC mill without having to manually square up the corners with a chisel afterwards.