I had a day off yesterday, so I managed to make a fair bit of progress on the bellpush. I made the captive nut plates in the morning, then in the afternoon and evening I made the backbox. I decided to make it from a solid chunk of seasoned oak for good weather resistance. My first job after planing the top surface smooth was to spot through the locations of  the two top mounting screws the same size as the clearance holes in the top (i.e. 2.5mm). In order to get them exactly the right distance apart, I drilled the first hole and stuck the shank of a spare drill bit in it while I drilled the second one. For this kind of delicate wood drilling I like to use a hand cranked drill because it gives you a much better feel for the amount of pressure and torque you're applying to the bit than an electric drill does.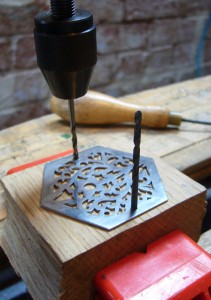 After drilling the pilot holes, I used a screw inserted through the nut plate to locate it in exactly the right position for chiselling it into the surface of the block.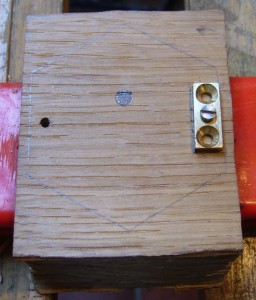 It's trickier than it looks to inset them neatly. The second one is less squiffy than the first! I also must have mis-calculated the width of the nut plates because they were supposed to end up flush with the outside of the box, but there is actually about a 1mm step in. At least both the tapped holes are in exactly the right place, which was the most important thing.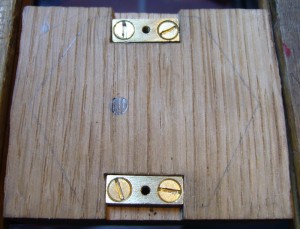 Next I drilled a small diameter pilot hole in the middle of the button hole and used it to guide a sharp flat boring bit to cut a slightly-oversize recess for the large diameter lip of the button (a forstner bit would probably be better but I haven't got one of those and it worked well enough). The depth of this recess will set how far the button can be pressed in (minus the thickness of the spring).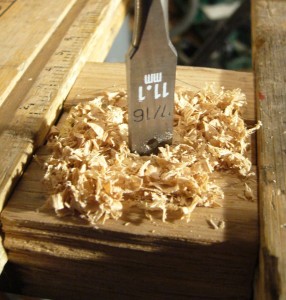 Finally I opened up the rest of the pilot hole to slightly over the diameter of the bottom part of the button: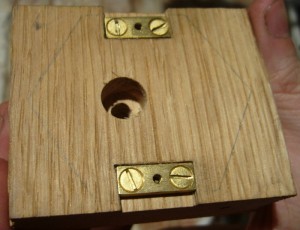 I had to chamfer the bottom of the button a little to get it to slide smoothly in the hole (should really have thought of that when I was turning the sleeve).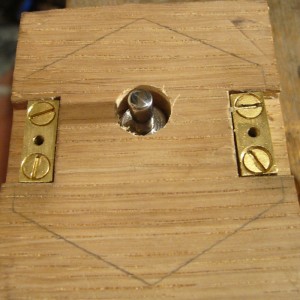 Next I sawed the block to the same shape as the top using my new gent's saw: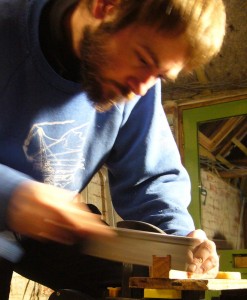 After a bit of planing to smooth off the saw marks and get it down to the exact size, I thought it looked a bit plain: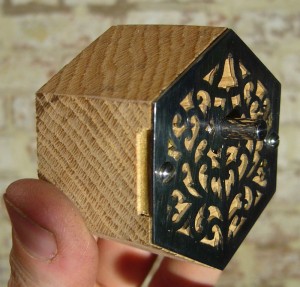 So I scribed three parallel lines near the back of the box: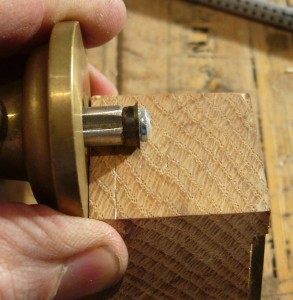 And carved some fake bellows with my Ashley Iles Vee gouge: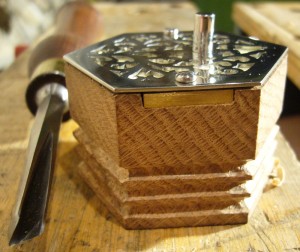 The plastic film behind the fretwork is a tasteful pale green in daylight: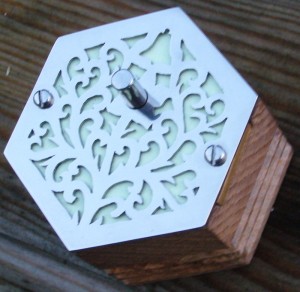 But at night it glows in the dark, which looks really cool if I do say so myself! 😉 (Sadly, it only glows this brightly for a few minutes after charging it up by shining an electric light at it.)