Here's another lovely vintage tool; one that almost certainly will get used in my concertina production. It's a small Swiss-made bench shear of a design that I have never seen before. One of the blades is a helical shape (that must have been pretty tricky to make!), and as you rotate it the shearing point slides along the fixed straight blade. The maker's stamp appears to say 'Clico' but other than that I know very little about it. It's quite small and very precisely made; I suspect it was probably intended for jewellery or clockmaking. It was a little bit pricey for a second hand tool (about the same as a new Chinese-made bench shear of more conventional design), but it's such a lovely thing and works so well that I regard it as a bargain. As long as I don't abuse it and hone the edges occasionally, it should outlast me. When I got it the blades were quite blunt but it still cut surprisingly well. I sharpened them last night and it now cuts really cleanly with more control and much less effort than a pair of hand shears.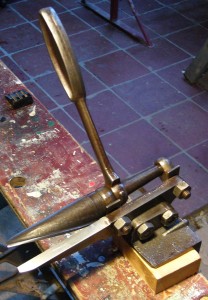 The state the edges were in before sharpening: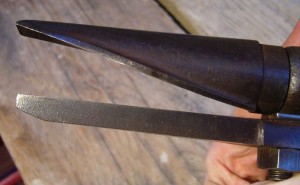 The unclear maker's stamp. I think it says "Clico". The number doesn't seem to refer to a patent (too short). Perhaps it is a serial number.

A brief video showing how it works (I would normally use two hands but one was holding the camera):