My name is Alex Holden and I am an engineer from Burnley in the northwest of England. The purpose of this site is to document my journey toward becoming a full time maker of high quality traditional handmade concertinas.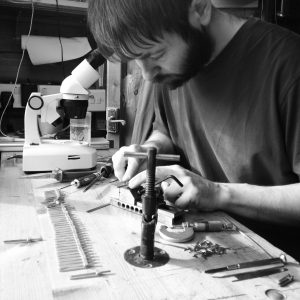 I have a background in electronics, metalwork, woodwork and software development. I drive a classic 1963 Morris Minor Traveller that I restored and maintain myself, and play folk tunes (badly) on an antique Lachenal English concertina that I have made playable and am gradually and sympathetically restoring. I have a passion for traditional craft skills and good engineering. My ultimate ambition is to make a living building excellent quality musical instruments that musicians will love and cherish and that will continue to provide enjoyment generations from now.
At the time of writing (January 2016) I am in the process of setting up my concertina-building workshop and making tools. On this blog I will be writing about tools and skills, and charting my successes and failures as I work towards building my first instrument from scratch.
This Post contains a bit more detail about my background and how I got to where I am today.