My name is Alex Holden and I am an engineer from Burnley in the northwest of England. The purpose of this site is to document my journey toward becoming a full time maker of high quality traditional handmade concertinas.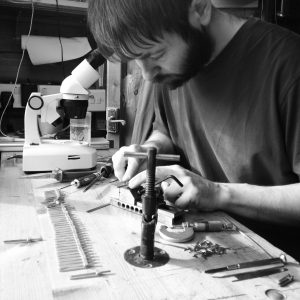 I have a background in electronics, metalwork, woodwork and software development. I drive a classic 1963 Morris Minor Traveller that I restored and maintain myself. I have a passion for traditional craft skills and good engineering. My aim is to make my living building excellent quality musical instruments that musicians will love and cherish and that will continue to provide enjoyment generations from now.
At the time of writing (November 2018) I have restored a range of vintage instruments, built two new instruments from scratch, and am currently working on my third: a 45 button Crane duet. No. 2 was very well received by players who had the opportunity to try it out, leading to my taking on several commissions for a variety of different instruments and building up a significant waiting list. I am currently not taking on any more restoration projects, to concentrate on fulfilling the backlog of new instrument orders.
This Post contains a bit more detail about my background and how I got to where I am today.